Been 'n' gone
This gig's over but check out the calendar for the next one.
Quick Links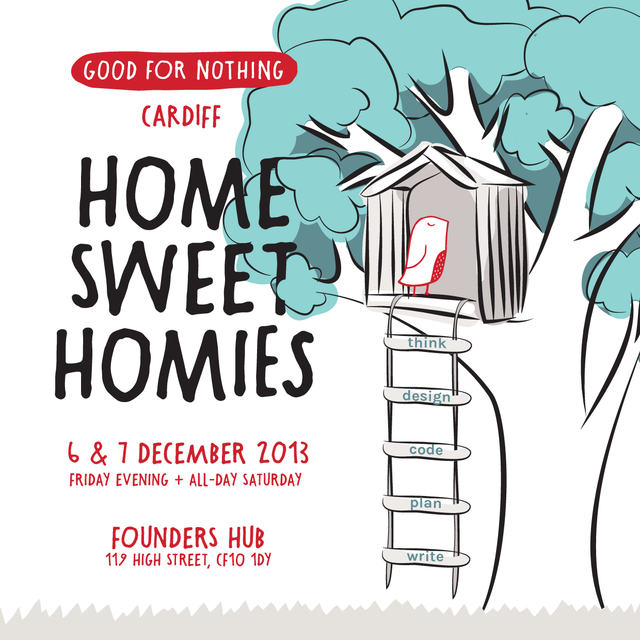 Hello!
For the first ever Good for Nothing in Cardiff, we'll be working with two amazing local causes: Hafan, who are a supported housing association which works directly with vulnerable women with young children; and Oasis Cardiff which helps Refugees and Asylum Seekers to integrate into their local community.
Both organisations have some really interesting challenges, so expect a non-stop day of turbo-charged doing and making, good music in an awesome venue provided by the wonderful Founders Hub in Cardiff City Centre. If you've never to Founders Hub before, then you'll find it's right right above Costa on St Mary Street.
We'll be doing evening drinks on Friday, then it's a full day of getting stuff done on Saturday.
We'd love you to come and get involved. Don't worry if you've never been to a Good for Nothing before. Here's a little video which shows you what to expect:
You don't need any specific skills, just a willingness to get stuff done. We've got challenges which will require thinkers, writers, planners, designers, developers and everything in between!
Shape of the weekend
Friday evening briefings and drinks: 6.30pm - 9pm
Saturday making and doing: 9.30am - 3.30pm
Final presentations at 3.30pm with drinks to follow.
On Friday, we'll hear from our amazing causes and learn about the challenges. Hopefully get a few of you to break into small groups around a specific problem.
On Saturday morning, it'll be a non-stop day of making and doing to get stuff done, we'll aim to present some good stuff back to our causes at 3.30pm-ish
Please sign up on the right and let us know you'll be coming, any questions feel free to drop us a tweet @GFNCardiff
Friends
Our first GFN in Cardiff was supported by:
Founders Hub, for the amazing space
Caws Teifi (Cheese!) @teificheese
Millies Cookies, Giant cookies
Lidl Splott, lots of baked goodies
Waterloo Tea Gardens, Tea
Touchpaper Graphics, our posters
Lia's Kitchen, Cake
Matt Evans / Big Llama Media, Videos
Paul Evans / blanc, Photos
Sainsburys St Mary Street, Lots of other food goodies
The challenges

q 4 Ideas 4 0 Contributions
For Hafan

q 3 Ideas 4 0 Contributions
For Oasis Cardiff