Been 'n' gone
This gig's over but check out the calendar for the next one.
Quick Links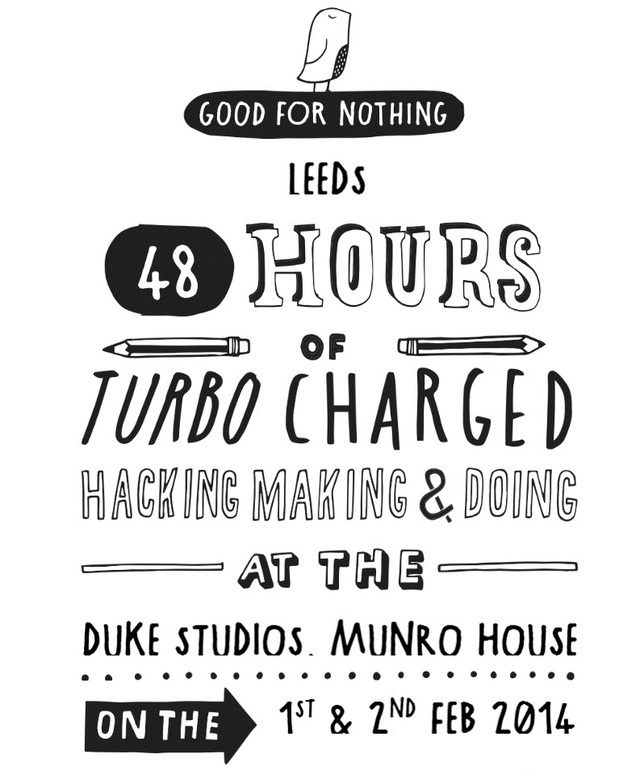 The inaugural Good for Nothing gig in Leeds, as featured (we say featured, we mean mentioned in passing) in the Observer, in one of the top 20 creative workplaces in the country the amazing, cardboard creation that is Duke Studios
We'll be taking on 3 challenges that will change the face of Leeds, and the lives of people living there, forever. So no biggie then (full creative briefs will be shared w/c 27th Jan):
1 - #GFNRecovery: Creative interns for Recovery Leeds helping people in recovery make the most of their creative talents, by getting them internships in creative agencies. What could be more life changing than that? Possibly working on a bespoke jobs matching & promotion platform
2 - #GFNConcert: Accessible gigs and concerts for Attitude is Everything, the national charity helping deaf and disabled people enjoy night-life more. Lets face it, Leeds is not short of great night-life, lets make it better. Possibly working on giving closed caption subtitling the WOW factor.
3 - #GFNHighline: Creating a digital platform and campaign to enable a community group to bring a disused city centre (ok, Holbeck) railway viaduct back into use as a linear park.
We'll keep you fed all weekend thanks to the generosity of some amazing Leeds foodie people and businesses.
Saturday night we'll be kicking back and partying with designer, illustrator and DJ Extra Unseen, with his trademark charity-shop-hop rare beats and found funk, plus tunes and visuals from Tim ineaux and others.
So, have you got skills to contribute? Can you help things run smoothly? Help us document this for posterity? If the answer is yes, AND you can spare the time, join us. You're welcome to join in for shorter periods than the entire weekend, and if you have uber speciaalist skills and/or experience, but cant make it along, sign up anyway and we'll phone/skype when we need you.
Here's how it will run... only we start at 9.30 on the Saturday and finish after lunch on Sunday.