Camp Nothing We Salute You // Let's go and make it happen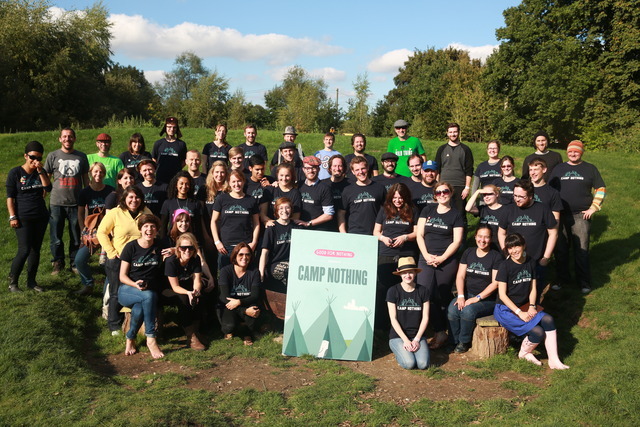 We've been finding the re-entry back into the constructed world quite tough after what was a beautifully cosmic Camp Nothing of epic proportions last weekend in deepest Norfolk.
We were literally speechless on Sunday evening and that was before the cider came out.
So where to start really?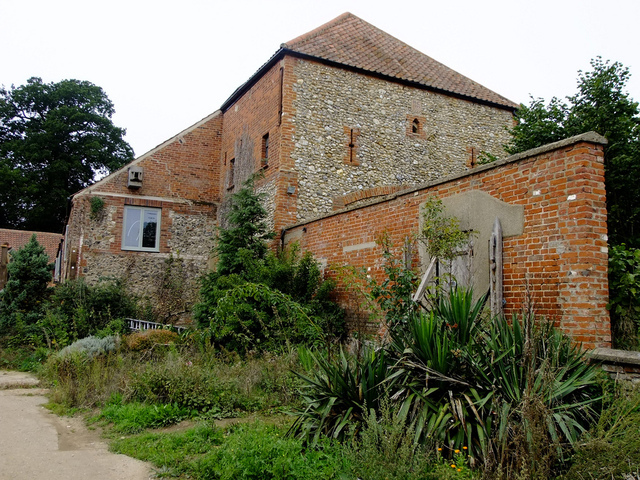 On thursday we made our Camp at the glorious West Lexham, which for much of friday was like a scene out of DIY SOS on steroids.
It seemed like every builder in Norfolk was working to try and finish off the barn and the surrounding rooms before our Campers arrived.
To be totally honest we were convinced it wasn't going to be ready.
So fair play to Edmund and his crew for pulling it out the bag.
Watching them work it felt very much like the GFN way - self organising, massive constraints and a scary looming deadline.
We had found our spiritual home for sure.
So we waited for the arrival of Dolly who had picked up all Campers from Downham Market station and about 5pm on Friday there she was with all the good folk on board and in convoy.
And what extraordinary, brilliant wonderful human beings they were/are.
We were humbled and blown away by their awesomeness.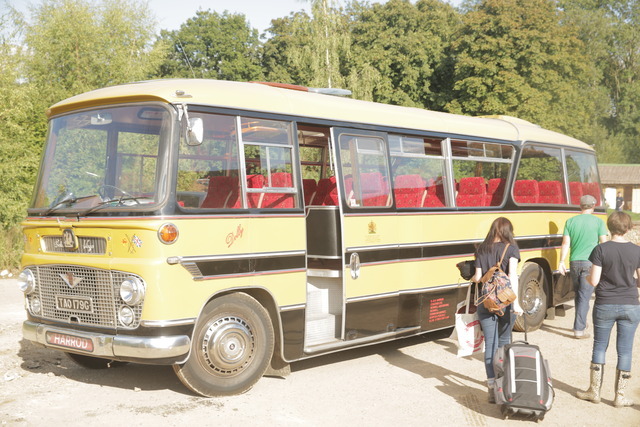 There in started a big love in of Good and Nothing.
The next 48 hrs involved a mash up of self organising around the live challenges on GFN and Year Here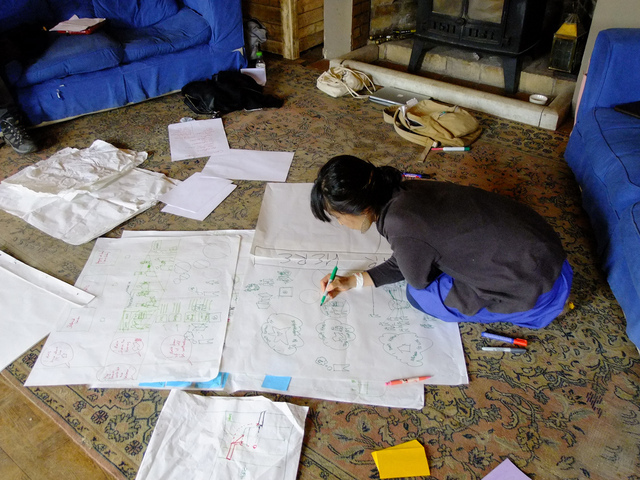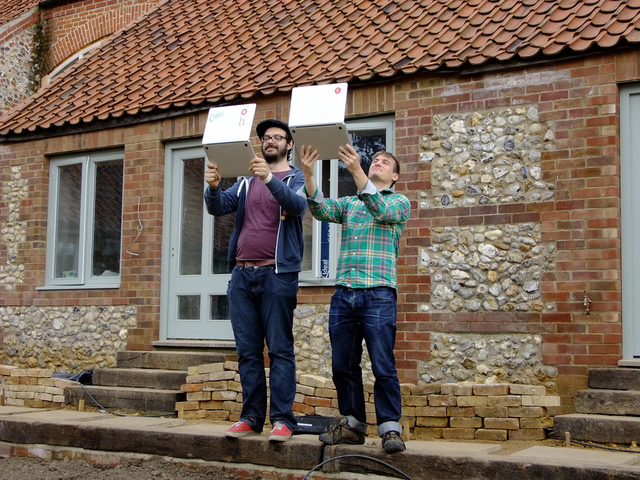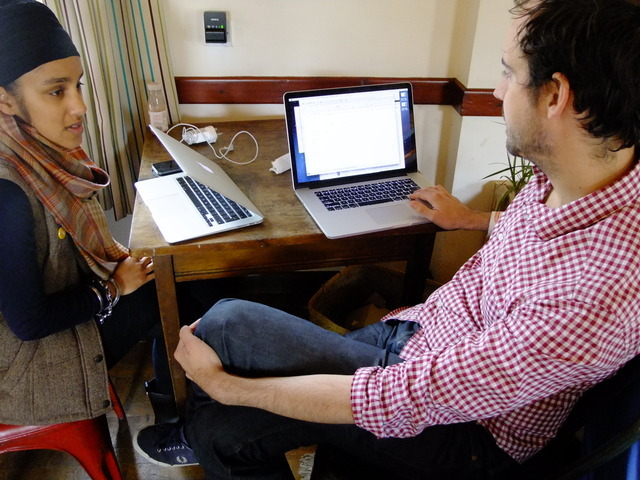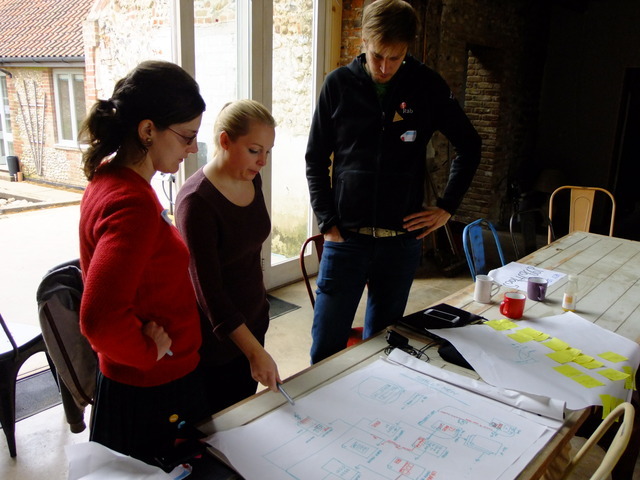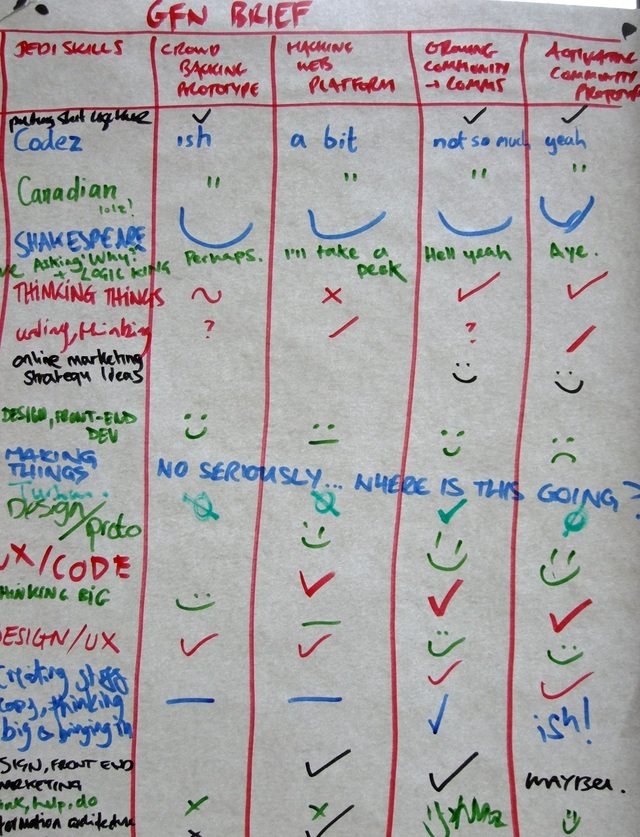 A Good for Nothing chapter surgery in the orchard where groups explored the various components of running GFN, from building community to blagging to finding ventures to support....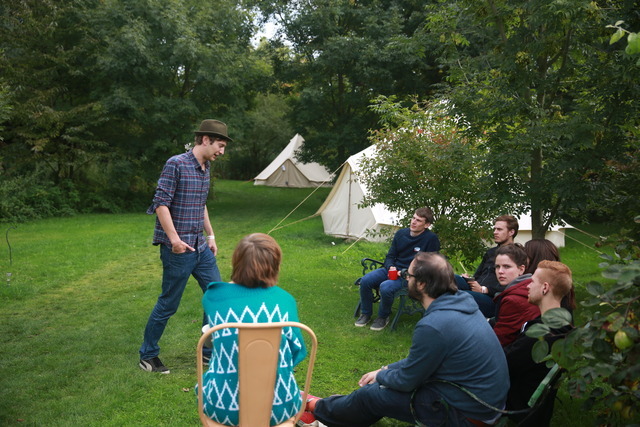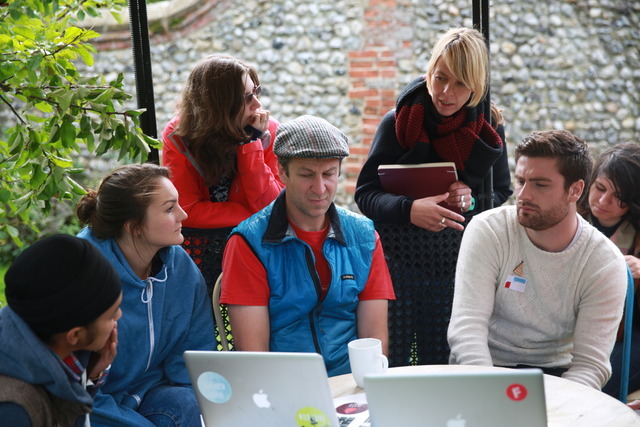 Camp fires, extraordinary meals, a hat party, a slightly bonkers GFN in a pub where we attempted creative inspiration for Partime Carnivore including tag lines being sang by the John Preston Tribute band (a GFN first)
And a community that collaborated and worked together to keep Camp Nothing ticking, washing up, preparing food, clearing up and keeping it real...
Some vague memories......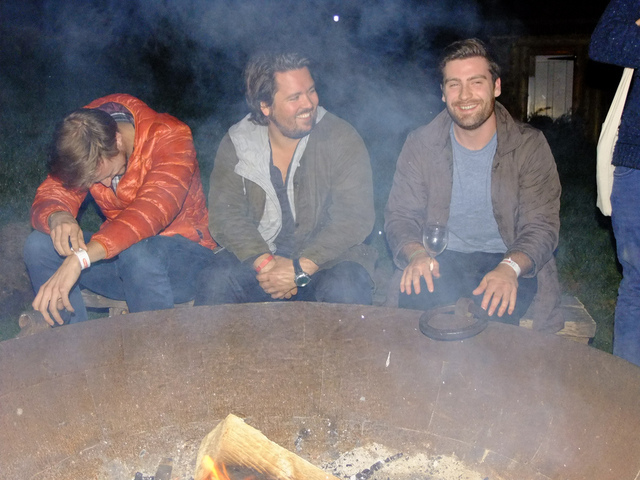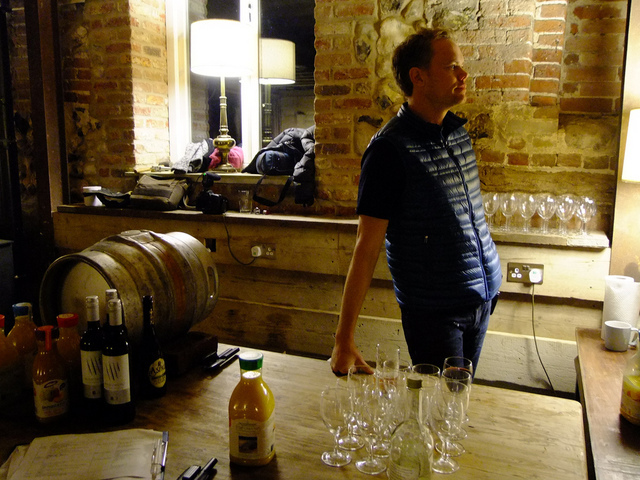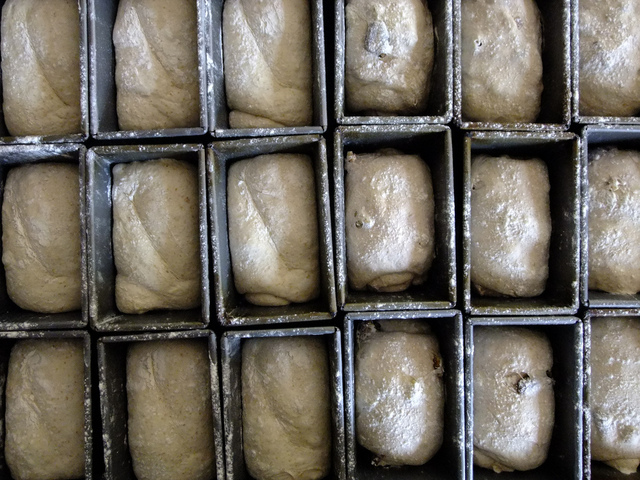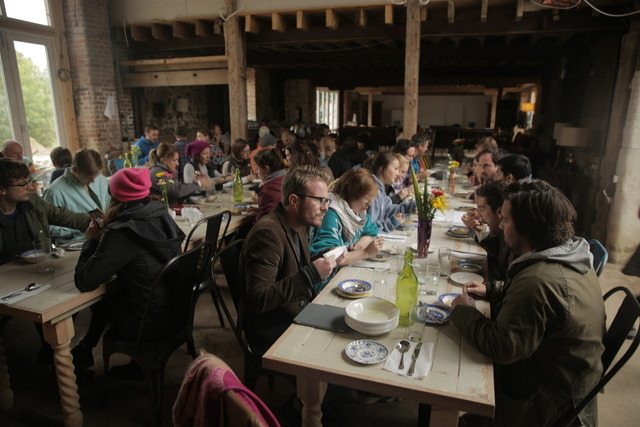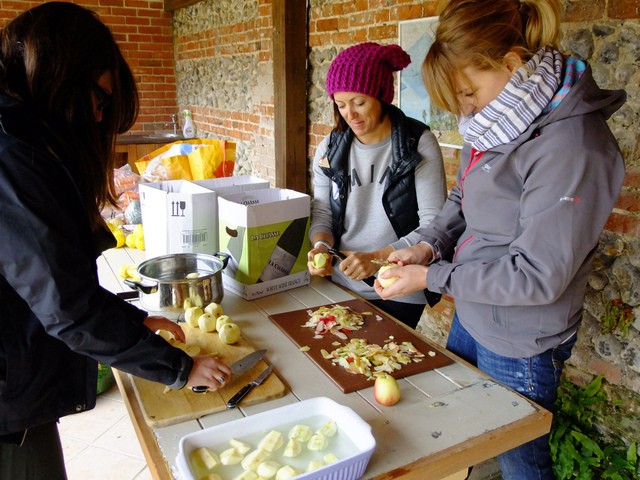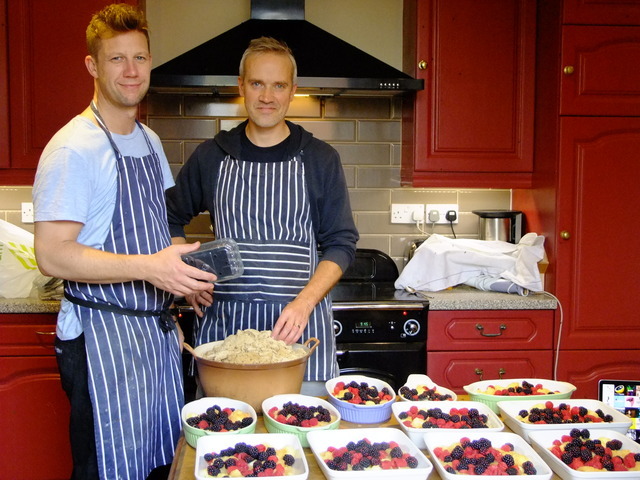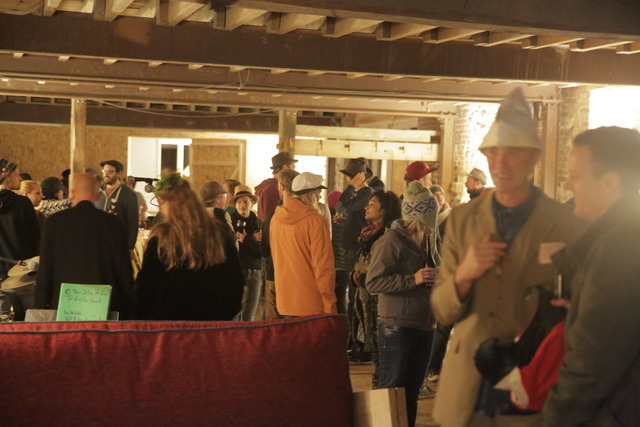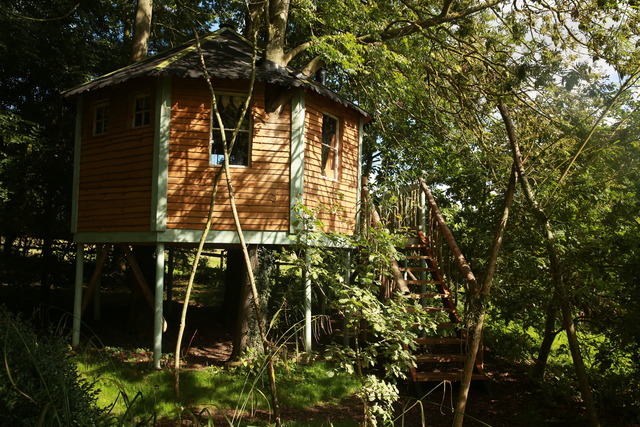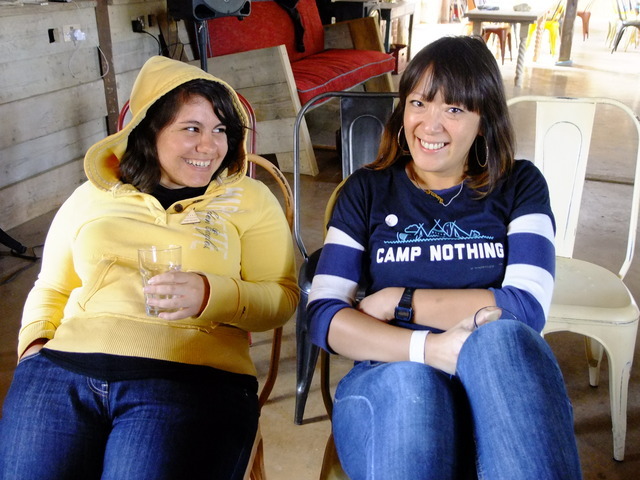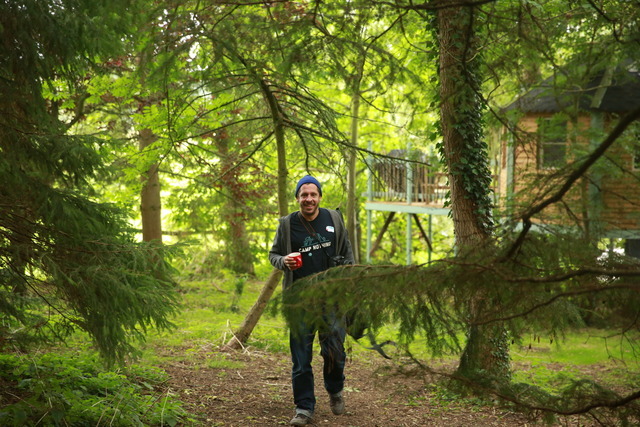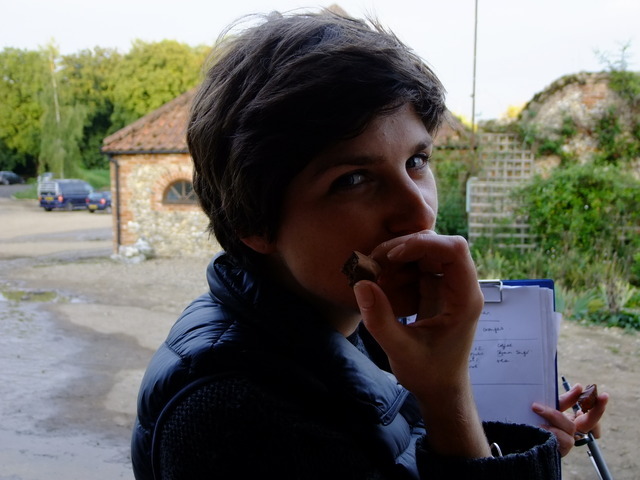 And in the midst of this teams got stuck into the Year Here and GFN challenges, delivering an awe inspiring amount of work.
Strangers, coming together, self organising, collaborating and busting some awesome work in a little over 8 hours.... for Nothing.
Sunday finished up with each chapter signing its handshake agreement and declaring its intentions to start its first gig by the end of 2013
So we welcome officially with huge respect, big love and massive excitement the following new chapters....
GFN Birmingham Immy, Ryan and Lisa, GFN Cardiff Tom, Noreen, and Pete, GFN Colchester Gaz & Mark , GFN Reading Tom, GFN Edinburgh Lucy, Akiko and Alistair, GFN Cambridge Helen, Lou and Mel, GFN Camden Michael, Rich and Nancy, GFN East London Erik and Jake, GFN Girls (Manchester) Jo, Rachel and Rebecca, GFN Chester Alice and Dave, GFN Nottingham, Sarah, Adam a new addition to GFN Brighton and GFN Rotterdam Lian !!
How blooming cool is that?!!!
We also want to do a quick shout out to all the good folk who helped make this whole thing happen. It was an enormous challenge and without these people and organisations it just wouldn't have been possible....
NESTA and Jason Mollring, Ed and crew at West Lexham, Sophia Hill, Courtney Linnecar, Jay Bold and Lee Friday Food Club, Al Kennedy & Caro Vail GFN Bristol, Loz Ives and Andy Gott GFN Manchester, Mark Sears & Zoe GFN Brighton, Hege at UNLTD, Steve Hamm, Addy,Sarah and Vicky for keeping the camp engine ticking, John, Katie and Josh on the hack, Evil Gordon on bread, Adnams Beer, Aspalls, Innocent Drinks, Dorset Cereals, Divine Chocolate, Tea Pigs,Yorkshire Tea, Booja Booja, Lick, Vintage Roots Wine, TShirt & Sons_.....if we've missed anyone sorry!
And finally we were offered an amazing late gift from Headspace for all Camp Nothing attendees, 3 months free subscription to their awesome Headspace service, essential mindfulness goodness to help support your Good for Nothing efforts (mail us if you would like one [email protected])
So What Happens next?
MAKE IT HAPPEN
The big one for us is 'it doesn't need to stop tomorrow'.
This is particularly true for the GFN platform development.
We would love you to finish the work you have started, as we said at Camp Nothing - we're opening Good for Nothing right up, it's about all of us taking it and remixing it across the network of chapters to make it work in our own hoods.
So the tools and platform need to reflect that.
You told us all the stuff that stinks about the current platform and showed us some lovely ways to fix it, so please fix it...!
You have permission to develop and experiment as you will, just let us know you're doing it, Let's get cranking!
Good for Nothing platform code in this github
Dropbox for sharing concepts and work here
PUT YOUR DATES LIVE
Please log all your events on the platform, socials, GFN in a pub, whatever it is you plan to do.
The quicker we can get everyone up and growing their communities the more we can support each other and start to build momentum and impact across the network.
SHARE YOUR REFLECTIONS
We'd love to hear your reflections about Camp Nothing and your intentions for your local chapter and we hope that you might again use the Warblings function on the platform to do that.
It would be amazing to get as many of you doing that, sharing words, photos,film whatever, again this feels like a great way to start creating interest in GFN in your local areas.
Don't worry about crafting words if that's not you, just raw thoughts and feelings would be amazing, warts and all.
The Flickr group is here please do share your photos
Keep the fire burning
Collectively we definitely started a big warm fire of possibility at Camp Nothing, let's make sure we keep it burning and welcome as many good do-ers around it as possible.
Imagine more folk doing a bit of good for nothing in their hood, who knows what might happen....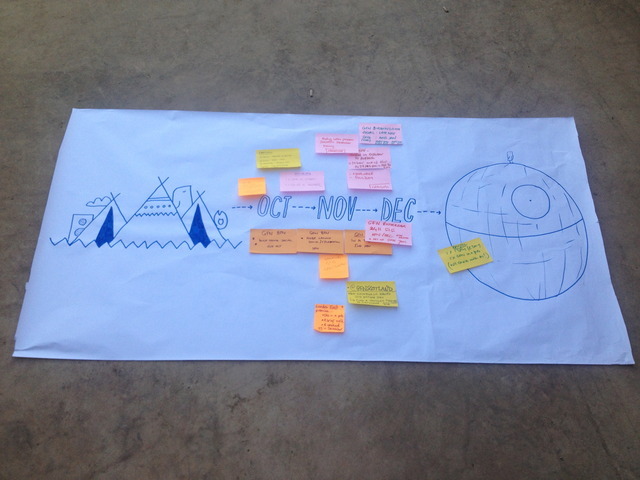 So spread the word about the bird
And remember we are not a cult
Peace and Out
The Mothership