Doing Good for Nothing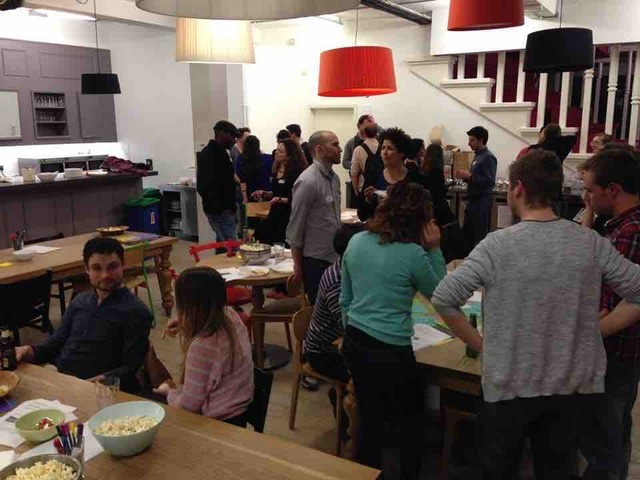 Why did you choose to do good for nothing?
I'm trained as a graphic designer and run a branding and communications agency called The House, so creative collaboration has always been something I've loved. I have worked with many different start-ups and bigger companies over the years, but get a real buzz from helping charities and social enterprises. I'd recently helped set up a social enterprise which is still running under the name www.stateofambition.org by my then business partner Darshan Sanghrajka and saw that I could help other enterprises as a creative partner helping them launch and grow. I considered setting up an event/workshop type group but stumbled upon Good for Nothing and loved it. It was everything I was hoping to achieve, so rather than reinventing the wheel, I took the opportunity to learn more about the organisation at Camp Nothing and took the plunge to start a chapter in Camden.
**
***What's been the best thing about it? (and to be balanced...the worst thing too)*
The best part is the magic bit....the bit when everyone is unsure whether we're actually going to come up with some good ideas and then suddenly, we do! It's amazing how energising it can be to step out of the day job, even if that is int he creative world, and collaborate with a random bunch of people of a new idea you've just heard about. It's good to take off the labels that job titles put on us and work on something from a different angle. Suddenly ideas are allowed to develop and grow as assumptions from others in the group are removed...it's the "and yes" camp over the "no, but...". It's fantastic to see others grow as they progress through the event, whether that's for 3, 24 or even 48 hours. People from all different backgrounds giving a different view on what could work and how to make things a better.
From an organisation point of view, it's not always easy blagging space, food, drink and getting a room for of people to help, but once it comes together it's all worth it! Not sure if there any bad bits, it's freeform, creative and fun....what more could you want!
How has it compared to your expectations?
It's pretty much lived up to them. The videos of past events looked great and summed up what was to come really well. Dan and Tom are great and have a real, honest energy for doing good creatively and collectively, so it's pretty much does what it says on the tin!
**
***Do you have a memorable stand out experience?*
I think it was surprising, in a good way, that the 3 hour events produce such great ideas in such a short amount of time. It was also amazing to see that a room of 30-40 people would give up their evening for an enterprise and not only that, would stick around longer to discuss ideas late into the night. It's was natural, organic and led to loads of ideas!
Why do you keep good for nothing-ing?
Because of all of the above. The pressure to create is remove and it becomes a creative and collaborative process. Not only that, but I personally meet some really cool people so it helps me grow as a person too!
What's unique about good for nothing?
That fact that there are so few rules. It's freeform, which scares most people at first, but then it magically comes together. It's fun to see it happen with very little guidance, allowing the group to create the outcomes.
Michael [email protected]