GFN Birmingham - Chapter 1; Testing the water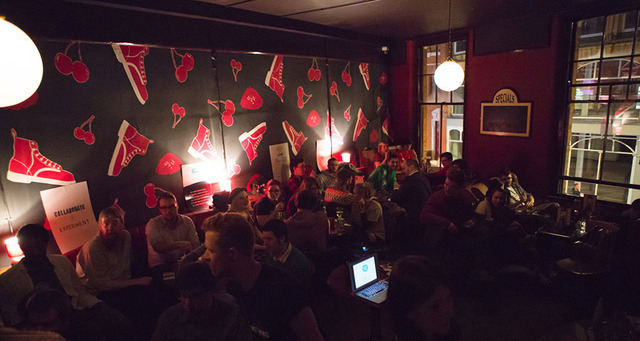 How GFN Birmingham came to be
Birmingham's GFN story began back in September, we found ourselves along for ride through a mix of fate and fortune...intrigued by the concept of Good For Nothing and feeling as though this was the opportunity we had all been looking for...a method to utilise the talents and skills that we have together for the greater good. We registered interest and before you knew it we were invited along to represent our city at Camp Nothing.
A weekend in Norfolk, complete strangers, complete beauty, cider on tap, home cooked food, cosy campfires and stunning surroundings. For a moment we were away from our worlds, cast into a space where all that mattered was getting to know some like minded people from the length and breadth of the country- and even Rotterdam. The world of work and all of life's concerns were gone for over 48 hours of pure good times and collaboration and first hand experience of what it is to be Good For Nothing.
We returned from the wilds of Norfolk, back to our city brimming with ideas and on somewhat of a GFN high...eager to boast about the wonderful experience we had had and how we could recreate it in Birmingham. And so after a few days coming down from the buzz, we set our selves the challenge of creating GFN Birmingham .
First steps
Twitter was an amazing tool. Within a couple of weeks we had over 300 followers, strangers of all walks of life eager to be part of or at least to hear what good for nothing was about. The word about the bird was spreading.
I suppose we are biased when we say that Brum is full to the brim of talents, but there is a vibe of creativity and a wonderful sense of community in the city...and alongside its wealth of skills it also has a wealth of worthy causes. And so our plans were set for a late October social. A chance for us to test the water and enthuse others with our excitement and dedication to the concept.
A venue was selected; the quirky and recently opened Cherry Reds, a cafe/bar who caters for anyone's cup of tea (or beer)... Jenny the owner was more than intrigued by our plans and gave us an upstairs space for free...how lovely! So we had a date and a venue....Now all we needed was people...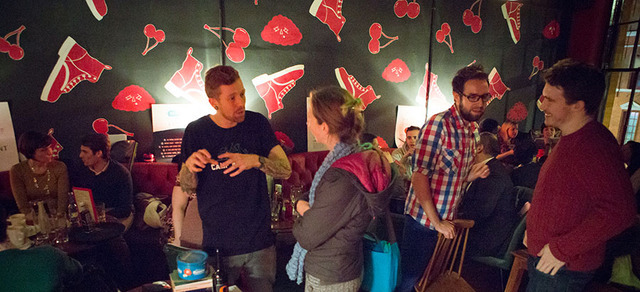 The night before Ryan and I were in a whirl of last minute preparation. We were spray mounting prints (kindly printed by Print Monkey in Leicester), prepping some signage for the venue (kindly printed by Substrakt) and cutting out question cards (printed by Sixth Story)
At best we were expecting around 20 people, which for a mid week meet up wouldn't have been a bad turn out, instead we were overwhelmed when over 50 people came along to our little social and couldn't fit in the room! Emergency chairs were indeed needed.
What struck us most was the lovely positive atmosphere that strangers in a room could create and the range of people who came down. We had, graphic designers, illustrators, web developers, social entrepreneurs, bloggers, photographers, business owners, project managers, independent retailers, marketeers, sign makers, charity workers, projection artists, authors, students, events organisers...a wealth and mix of wonderful people, young, old, local and people from further afield. Thank you all so much....
The evening started with some socialising and drinking, meeting and greeting. Then we moved on to a casual but enthusiastic presentation from the three of us. We had a slide deck prepared (inspired by (read:ripped off from) Colchester, so thanks Gaz & mike!) and a rather unreliable projector. But we put something together that seemed to inspire our listeners.
We welcomed a rather special guest; Dr Birgit Kehrer (Photo below) from Change Kitchen. A professional social catering company who employ ex offenders and people without a home to prepare and cook food, who then benefit from learning skills and having responsibilities. Birgit spoke from the heart about her journey and challenges as a social entrepreneur and kindly explained how GFN could help her.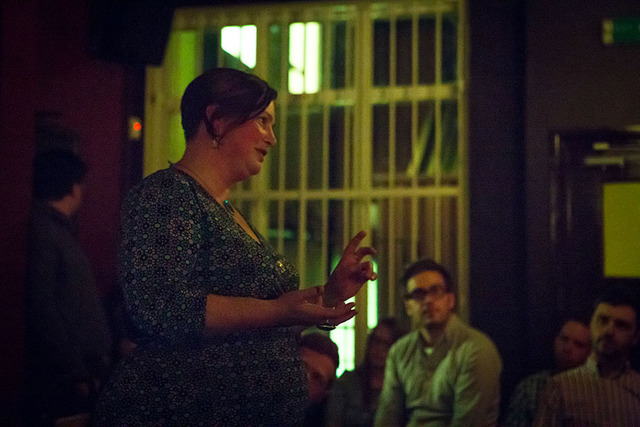 Following on we tried to play a few previous GFN gig films but the projector had somewhat of a technical hitch (read: ran out of battery)... but at least it's a lesson learnt! It didn't matter though as we shared them all via twitter afterwards (check them out). And that's the beauty of GFN, it doesn't have to be perfect, it just has to inspire, energise and make everyone feel good, and from the feedback of the event, I think we were successful in doing this. We published a Storify page to collect all the various tweets and photos from the eve, so check it out!
That's it with the talking- let's crack on with the doing!
Our first gig is hopefully happening in December for an evening in a cafe/pub, but we'll be hitting it hard with a full 24/48hr gig in early February to help Birgit and Change Kitchen.
We hope to see you there
Lisa, Ryan & immy