Good for Nothing -> It's official. You are all Radical!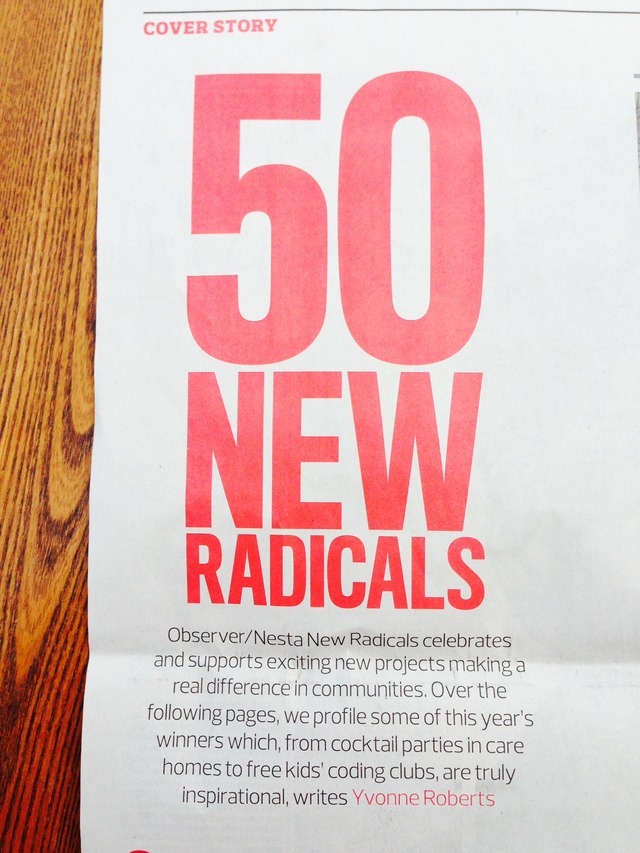 Nearly a year on from Camp Nothing, and the Good for Nothing got a little love yesterday for our efforts to blow up the Death Star.
Thanks to everyone who's involved in GFN, we got voted by The Observer/Nesta as one of Britain's 50 New Radicals - a "folks making Britain a better place" competitiony thing. It was featured in The Observer paper yesterday and is online here and here
Our little mantra of 'making stuff, not breaking stuff' has spread across the land and the ripples of all the work have been noticed!
As GFN doesn't happen without everyone getting stuck in, and especially the awesome chapter leader gang, it's great to see all that hard work, rolling up of sleeves and turbo-doing being recognised and celebrated. And massive thanks to Nesta for backing us.
It was great to see so many ventures in the list that GFN chapters across the land have helped over the last year or two.
People like Super Kitchen, The Severn Project, The Do Nation, Spark & Mettle, Sunday Assembly, Rootless Garden, Year Here and Stay Up Late also getting some love...and a well-deserved 'rad' feather to add to their bow.
Read more about the Super Kitchen story here too - Sarah and the Notts chapter clearly made a big impression on them in their Nottingham gig a while back....
Love, peace and respect to all.
Rave on!