Good for Nothing Mission 2013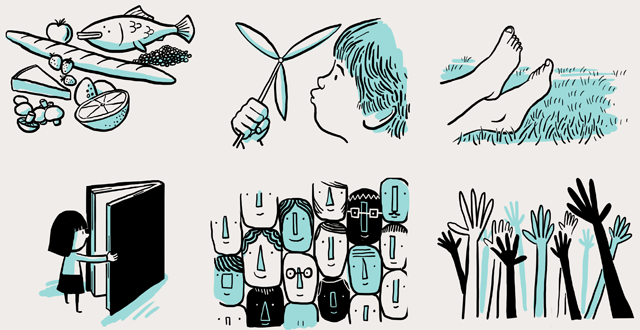 As the Good for Nothing movement grows, we've been reflecting how we can best increase the positive impacts of the collaborations and efforts of the community.
When we look around, there's a tonne of stuff that needs fixing urgently, very little that we depend on as humans to flourish, is fit for purpose for the 21st century, and if you dig a bit deeper into the systemic nature of stuff, the interconnectedness of everything, it's deeply worrying.
It feels like we're at a moment in time where more folk than ever understand and accept that the 'economic growth' at all costs model is bankrupt, that a materials based consumption focused culture is failing us and that the globalise everything approach is not only completely unsustainable, but toxic and perilous for the long term stability of human communities on this amazing planet.
Take the small matter of climate change…
In the last week we've a report from PWC which sets out that the continual inability of the global political and business community to kickstart a low carbon descent means that we are now on track for a 4 to 6 degrees celsius rise this century - that's hotter than the planet has ever been in the last 30 million years. And will result in devastating climate change - which in a nutshell means massive sea level rises, food shortages, droughts, mass migrations and loads of really dark and sad stuff.
Check the response from the World bank here
we can can have economic growth or deal with climate change - we can't have both
– Kevin Anderson
Rapid and deep carbon emissions reductions may not be easy, but 4°C to 6°C will be much worse
– Kevin Anderson
...and for me sums up why the choice to go on a rapid carbon descent is a no brainer
At the same time, this week, the British prime minister poetically announced that we are in an "economic equivalent of war" and "in this global race, you're either quicker or you're dead".
Just read those words again.
The frightening thing is he's championing a faster, materials based economic growth approach, more carbon, more production, more consumption. No limits.
Andrew Simms from NEF response to the PM's speech is well worth a read here
Also this week an undercover sting from the good folk at Greenpeace, tells you enough about the UK government's real belief and commitment to new forms of renewable energy, critical for a lo carbon descent and to create energy security and independance.
Depressing right?
For us at the mothership, it feels like we are living in the strangest of times. On one hand so many amazing possibilities are emerging at grassroots to start solving many of these big chunky systemic challenges we face. Never have we lived in a time more easy for people to stand up, to do, to disrupt, and create, with so many opportunities to connect, share, collaborate and learn along the way.
And yet 'our leaders' seem more disconnected, souless, ignorant and frankly dumber than ever..
So what to do.
Well let's focus on the former. The amazing stuff, the people, communities and organisations imagining what could be. The fixers.
They need help, lots of it.
And that's where we all come in...
We've prioritised 6 areas to focus on as a movement of smart folk collaborating and experimenting and doing Good for Nothing. For us they represent the most pressing and urgent challenges for a more stable, flourishing and equitable world.
And we also know there are plenty of innovators working on solutions and ideas in these areas who need lots of help to accelerate there impact and potential.
So here's the 6 areas of focus:
Future Youth
Whichever way you look at it, young folk are the future. Latest figures from the Government show that almost a million UK people aged between 16 and 24 are unemployed. The figures are mirrored across Europe with youth unemployment hitting 23% this August. We're interested in the ideas and initiatives that will provide solutions to this massive social problem. And we're seeking to collaborate with some of the sharpest, most intelligent and creative young folk out there. But the talent we want to work with is short on hope and belief. They lack support, community, voice, family, learning and inspiration. We want to help change that. Check out future youth warblings.
Communities
Community. Huge word. But here, quite simply, collective human energy with passion for collaboration, co-operation, shared value, localness and betterness. Check out communities warblings.
Biosphere consciousness
The operating system for all life. In the last few hundred years us human folk have lost touch with the natural living world around us. With 3.5 billion years of R&D, the biosphere has innovated more than any business on the planet.It creates the conditions that support and enable everything we do, from life itself, to food and energy, from govt to business. If we don't learn to re-connnect, notice, learn, champion and steward, we're dust, literally. Check out biosphere consciousness warblings.
Sustainable Food
Eating good food is one of the most humbling and satisfying experience of being alive. The Agricultural revolution changed the way humans ate. It powered our explosive development and growth. But right now at nearly 7 billion people, we have a food system which is weak, vulnerable, global, largely dependent on oil and increasingly being fiddled with in a dark industrial way. Let's make it better. Check out sustainable food warblings.
Humanness & wellbeing
Imagine if in everything we did there was a nod to humanity? Looking out for and looking after. If social care, health, human rights, poverty, elders and those most in need were all of our responsibility and there were brilliant ways to help us all to get involved. Check out humanness & wellbeing warblings.
Smart Energy
Energy is the gigatrend of the 21st century. Just turn off your lights, heating and power and see what happens.
The uber challenge is that our entire energy system is powered by fossil fuels which rule the economic story and rapidly disrupt climates with devestating effects. There's a good reason nature buried them deep underground. We need new diverse forms of renewable energy, distributed, owned by communities, independant, flourishing, smart. Power for the people. Check out smart energy warblings.
To start things off, we're looking to collect inspiration and ideas around these challenge areas. Next year we will start to activate specific challenges on and offline. Locally and globally. Through our own missions and collaborations with partners and other organisations.
We're inviting you, the Good for Nothing community to get involved in creating the dialogue, inspiration and energy around these core challenge areas. These inspirations will live in the Warblings space here on our web home.
We've made it easy for you to contribute inspiring bits and pieces that you come across - an interesting website, a post, a thought-provoking piece of film, an innovative social venture or grassroots innovator. We're talking a few words, a link, an image or video.
So look around, pick a problem, there's plenty to go round!
Get in touch if you want to become part of the Good for Nothing Warbling crew, we'd love to hear from you, drop us a line at: [email protected]
Let's hit the Warp Drive and go for it.....