Guest post: The impact of Good for Nothing, 18 months on. The DoNation Story.
A Guest Post by Hermione Taylor, founder, The DoNation
With Camp Nothing just passed, I'm seriously excited to see what lies ahead for Good for Nothing. But whilst you're all looking ahead, I'm going to take a few minutes to look back at the impact that Good for Nothing has had on The DoNation.
I have a lot to thank you guys for.
Back in January 2012, The DoNation was one of the projects 'hacked on' at the #OccupyBlueMonday gig. It totally blew my expectations. I came away from the weekend with so much incredible stuff: from a powerful video (which we have used to introduce every funding pitch since) to a blue-peter style totalizer bar*.
But that's far from all.
What has really taken me by surprise is for how long our Good for Nothing experience has kept on giving. A year and a half on and we have two more major things to thank them for: our first two clients.
This week we launch our first formal Do Good for Uni programme at Chester University, where the incredibly pro-active Alice Elliot heads up their Green Chester sustainability initiative (and now Good for Nothing Chester).
As an avid Good for Nothinger, she heard about The DoNation through the good grapevine and snapped up our university offer before we'd even drafted our sales documents. We've now got 28 teams covering the whole university competing to do the most DoActions and save the most carbon. Hopefully the competition will start hotting up as Fresher's Week gets underway.
Earlier in the year we also launched our first Do Good for Business programme with ERM. Again, the result of another insanely pro-active Good for Nothinger – Caroline Vail. (now also Good for Nothing Bristol).
Caro had actually been at the #OccupyBlueMonday gig, but working on a different project so we hadn't had a chance to meet. Without wasting a moment, she called me up the following Monday morning saying that she'd love to get ERM involved. This led to a year of pro bono support from one of the world's leading environmental consultants – and in turn, to ERM signing up and pioneering the way with our Do Good for Business programme.
Five months in and almost ¼ of ERM's 500 staff have actively taken part in their Do Good programme; together making 280 pledges and saving as much carbon as 23 flights form London to New York. My favourite Do Stat (an idea inspired by the infographic that Emily Underwood created for us at GFN) is that the ERMers pledging to do Step Up have climbed enough flights of stairs to climb Everest 4.3 times!
So, as I said, I have a fair bit to thank Good for Nothing for.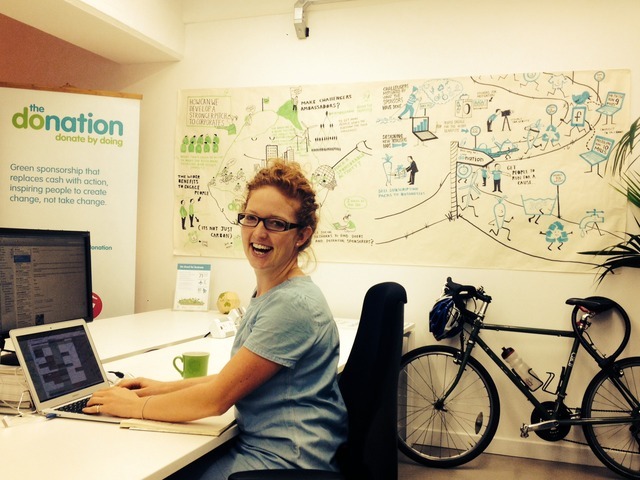 But there's one last thing.
As I sit here writing this warbling in our swanky new Wayra offices, I'm bathing in the glory of having the finest office décor of all the start ups: our truly awesome Scriberia poster from the Good for Lots weekend.
Head this way to find out more about our Do Good for Business, and over here for Do Good for Uni..
Head this way to see a totalizer bar in action, sitting at 95% at time of writing… see what I did there?!