Introducing Camp Nothing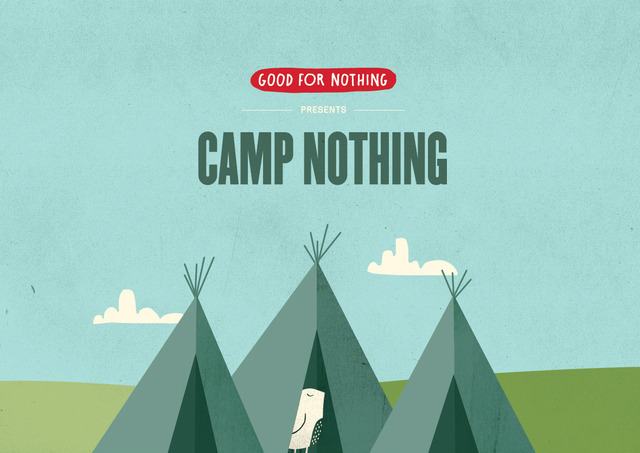 Last year , Good for Nothing kickstarted new chapters in Brighton, Bristol, Manchester and Wellington NZ.
Feedback from these cities has been amazing.
Grassroots communities of creative do-ers have emerged, collaborating around local systemic issues and helping to accelerate the work of change makers and social entrepreneurs.
At the same time learning by doing, building new skills, sharing ideas and having a laugh!
And doing all of this for nothing.
Giving but not as we know it.
So this year we're hoping to get more Good for Nothing happening in more places.
With support from Nesta's Innovation in Giving fund last year, we built the basis of our web platform and have invested in developing a web-based toolbox and wiki to help new chapters get going and provide support resources. We also developed some new formats, GFN in a Pub ( a 4 hr version) sits alongside, 24/48 hr sessions, as well as socials and web-based offerings.
We're pumped about using all this knowledge and these tools to help spread GFN further across the UK and beyond.
And we're stoked that NESTA are going to be supporting us in this next phase, as we launch…
Camp Nothing
A gathering of Smart Folk to nurture and launch 15 new Good for Nothing chapters across the country.
The objective is simple.
We are inviting applications from the smartest, creative, most resourceful, soulful do-ers, dreamers and change makers from 15 cities in England and Wales to head up and grow GFN in their communities.
We're looking for 2 to 3 folk from each place covering the span of backgrounds and local networks that we know makes Good for Nothing go off - social business, innovation, sustainability, communications, design and technology.
You don't need to know each other, but it's fine if you do.
You'll join us for a 48 hour weekend of doing, making, learning and mentoring from Friday 20th to Sunday 22nd September.
You'll work first hand on live Good for Nothing challenges with social entrepreneurs, you'll get taken through the formats, toolkits and resources developed by the GFN community, you'll get one on one mentoring from the GFN founders, current chapter leaders and wider community.
You'll also eat great food, listen to some inspiring talks, enjoy music and get to meet, collaborate and laugh with a bunch of awesome change makers from across the UK.
And did we mention the soundsystem?
Then when you go back to your hood, you'll start your chapter, choosing a GFN format and landing your first gig by the end of 2013.
And then the real adventure begins.
**But what the F is Good for Nothing? We hear you say! I've never been to one!
**
So Good for Nothing is a bit like this...
The gig
The camp will run from Friday 20th afternoon until Sunday 22nd September.
It will take place in a secret location. tbc
You will spend the entire weekend with us.
We will do together.
Learn together,
Eat together,
Cook together,
Laugh together
And sleep too.
You will need to get yourself to the location, but once you are there you will not need for any money.
It will be Good and it will cost Nothing.
What next**
So if the idea of starting a GFN chapter in your hood feels strong with you,
If you are motivated by positive change
More openness, collaboration, creativity and sharing
Doing stuff that matters
If you can re-imagine an alternative to the toxic crumbling industrial system,
And you like the idea of blowing up the death star
We'd love to hear from you.
Here's a bit more detail about starting Good for Nothing in your hood
Then have a go at answering these questions
We will be in touch.
Good luck!
Peace and Out