The Apprentice Without The W*nkers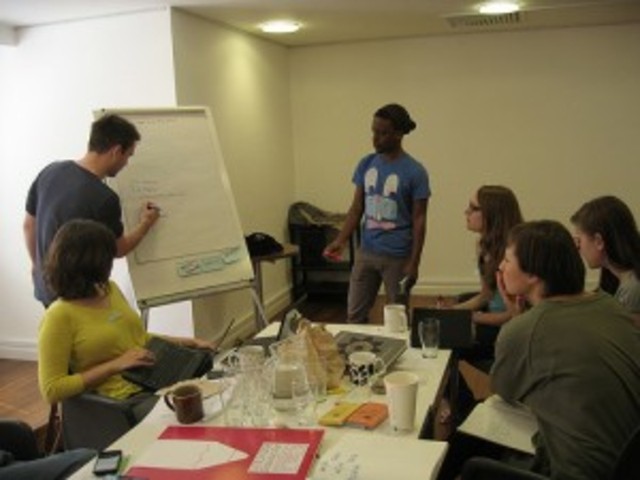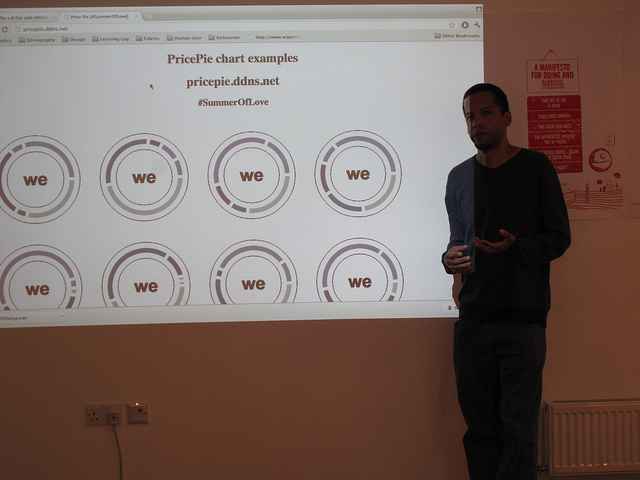 Oh it's painful, isn't it? A room full of suited and booted middle-managers, all stabbing each other in the back and scrambling over each others' corpses, desperately trying to impress 'Sir' Alan, in order to work in yet another grey office and talk drivel, to make someone who is already disgustingly rich, even richer.
It's this very 'If I am to succeed, it must be at the expense of others' attitude which makes me cringe and be incapable of watching The Apprentice anymore. As an alternative, I highly recommend watching The Apprentibs – Facejacker's version of the BBC show– "you're all fackin' useless, so you're all fired!"
Thankfully, there is a wonderful alternative to The Apprentice out there, and it's called Good For Nothing. GFN is a small group of do-gooders, who have come together and decided to do business differently. They host regular events, where 3 local social enterprises within a chosen city are offered help, by pooling together local talent (such as graphic designers,coders, web designers, marketeers etc) from the area, on a volunteer basis, to help deliver a specific brief of work that is needed to take to social enterprise onto the next level. It's all done in 48 hours, and everything's free. Sounds hard to believe, doesn't it? Well, I can personally vouch for the process, as** PricePie**, my baby, was one such recipient of all this good will.
Between 22nd – 24th June, I handed the reigns to my first child, PricePie, over to a group of passionate and creative volunteers, and let them rip. On the Friday night, I presented to the group, explaining why PricePie had come in to existence, what we had achieved so far, what's holding us back from achieving our long term goal and how Good For Nothing could help us. In addition to this, a brief had been put up on GFN's website, during the sign up process, so volunteers were aware of what was being asked of them in advance.
Following presentations by all three local causes (the other two were hiSbe and StayUp Late), volunteers were then able to mingle, chat with us, and ultimately make up their mind as to who they'd like to work with. Alongside their name, they were encouraged to list their 'Jedi Skills', so it was clear to all what skills they felt they could contribute to the process.
And mingle & chat we did. Now, I'm not a cider fan, but I can safely say I am now thoroughly converted, having drunk the beverage provided by one of the sponsors, AspallCyder. Not only did it taste delicious, but it acted as the social lubricant to bring together volunteers and business owners. Following coercion, arm twisting, story telling, begging, pleading and finally threats, PricePie amassed a compact and formidable team of Ines Canellas (design, illustrations,positivity),Tobias Quinn (technical software-buildingwizardry, which I still don't understand), Lizanne Dirkx (designer, visual & concept)and her friend LotteVan Wulfften Palthe (who was visiting from Holland just for the weekend!), Joe Bradley & Isaac Matovu (creative ideas, product design, graphics), Niklas Vaittinen (web design, online marketing) and guest appearances from Mark Sears and Rodrigo Bautista (organisers and thoroughly nice chaps).
Over the two days, I was moved by how positive and constructive the work environment was. Not once did I hear crossed words between people, nor any negative comments. We were all there for the same reason it seemed – to bring together our passion, dedication and creativity and put it to good use. This truly was the definition of synergy– to create a form of value that is greater than the sum of all its parts. I can't emphasise enough how much I enjoyed Good For Nothing, and how positive it made me feel about humanity – when like-minded and altruistic people come together, it seems everything is achievable.
I am reticent to use this adjective, as the few times I have heard it used is to describe the 'work' of the Queen, however Zoe Olivia John and Zosia Mnich were truly tireless in their efforts. The organisation of the GFN event was flawless, from my perspective,and these two, along with Mark and Rodrigo were the reason why. The Lighthouse was an awesome venue, too– modern, light and airy – you have no choice to be creative when in such surroundings. Brighton is so suited to events like this!If you know me, you know I love food. If there is a party with finger food, and you need one person to go up to the table and start eating so you feel less awkward yourself, then that is me. It was therefore much to my delight that Real Patisserie provided the devilishly delicious croissants in the morning and Higgidy the perfect pies for lunch on Sunday. The food alone made GFN. Had PricePie walked away empty handed, its director would have been content, having gorged himself on the delights on offer.
At 5pm on Sunday, the teams presented back to the business owners the culmination of all their hard work over the weekend. To say I was happy would be an understatement. On my way down to GFN, I felt like this was going to be the most exciting weekend of my life. It didn't fail to deliver. When team PricePie demonstrated their work tome and the rest of GFN, I felt so proud, positive about humanity, excited and grateful. Did PricePie achieve everything on its brief? A resounding yes. With a capital Y. We now have a custom built software program which will enable us to remotely update and upload our data to screens within supermarkets, shops etc, a visually attractive and simple new pie chart design through which we'll display our data and a cool promotional video to spread the word aboutPricePie, and explain the benefits of working with PricePie to businesses.
The GFN organisers have asked that weall stay in touch. As I commented at the time, if I didn't, I would feel like Iwas losing touch with a new part of myself. It's definitely going to happen. Collaborationis key and Good For Nothing is the King of Collaboration.
See below for theculmination of Team PricePie's efforts: