Trip report: Colchester's first GFN Social
And so the day we'd been waiting for finally arrived. Last Thursday the Colchester chapter of Good For Nothing opened its doors for the very first time and welcomed twenty-five or so eager, inquisitive and (in some cases) confused GFN-ers-to-be into the St Botolph's Waiting Room.
Our challenge was to sell the idea of working for someone else's good cause during your spare time, and it turned out to be a pretty easy sell. After a few local ales and a chance to get to know everyone, Gaz got up and gave a short talk on what GFN is about, and why we're so stoked about it (there's a link to download this at the bottom). We were relieved to see that when asked, "who has heard of Good For Nothing?" almost every hand in the room went up. It was interesting to learn that hardly anyone was a Waiting Room regular - they'd made the trek out into the cold especially to see us and do Nothing!
GFN is all about doing not talking, so it straight onto the briefings and the Half Hour Hack. We'd asked Marc De'ath of the Creative Coop and co-founder of the St Botolph's Waiting Room to come up with some challenges that we could get our teeth into in the short time available, and crucially, still do something useful. The first brief was to come up with a marketing strategy for the Waiting Room and to get the space known about around town. The second was to build on the work that's already been done collecting memories for the History Archive by coming up with new and interesting ways of gathering photos, videos and documents.
People quickly grouped around their chosen brief and cracked on. Ideas flying and pens scribbling, we'd soon got some brilliant stuff down on paper. Bat signal? Sure! Rave bus? Why not!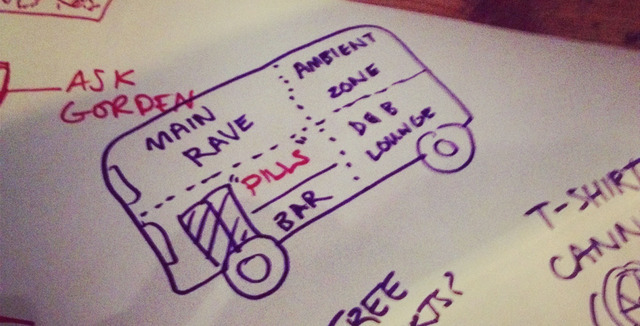 At half-time we brought everyone together again and the teams presented their ideas back to everyone else. As well as being an opportunity to see what each group had been up to, we set the task of refining the ideas back to just two per brief. It was also a chance for Marc to give some feedback, and then it was back to business! With a renewed focus, ideas quickly gathered substance and before we knew it it was time for the final presentations.
The group working with Brief One decided the best way to raise awareness for the Waiting Room was to take it to the people; using the old London bus parked outside. As well as a rave bus, it could be filled with examples of what the Waiting Room is about - artists, hackers, makers, a place to record memories and of course, a bar. It's also a lovely nod to the Waiting Room's past life as part of the old bus station. We love it! Their second cunning ploy was to tie a blimp to the top of the building and light it up to make it unmissable at night; like a lighthouse for thirsty people looking for inspiration.
Brief Two's group thought outside of the box to come up with a clever way of collecting memories. They decided that the target audience would be pensioners, but getting to talk to them could be difficult. So they asked themselves, "who has no qualms asking a million questions and has unlimited enthusiasm?" Children! They devised a program that would go into primary school assemblies and ask the kids to talk to their grandparents about what life was like in Colchester in 'the olden days'. Inspired!
Marc and Kaavous from the Waiting Room were both really happy with what they got out of the evening, and from talking to the people who stuck around for a few beers afterwards I got the impression the GFNers were too!
It really is amazing what you can achieve in such a short period of time. Someone pointed out that paying for the undivided attention of twenty-five freelancers for a day, let alone an evening, would be almost unheard of and certainly unaffordable for most agencies. I feel like that truly sums up the spirit of Good For Nothing; helping good causes gain access to skills and thinkers they'd otherwise struggle to afford, and ultimately do good.
The social was meant to be an opportunity for us as chapter founders to gauge interest and enthusiasm for GFN in Colchester. In Gaz's words I think it's safe to say we smashed it out the park.
---
We'll be holding our next social on Wednesday 6th November, 7:30pm-late at the St Botolph's Waiting Room.
Our first 24 hour gig is on Friday 22nd/Saturday 23rd November.
Hear it from the horse's mouth! Blogs from GFNers in Brief 1 and Brief 2.
Download the presentation here // Check out a storify from the night
facebook: /groups/gfncolchester
twitter: @gfncolchester // #gfncol