We all love gigs, especially with Gigbuddies...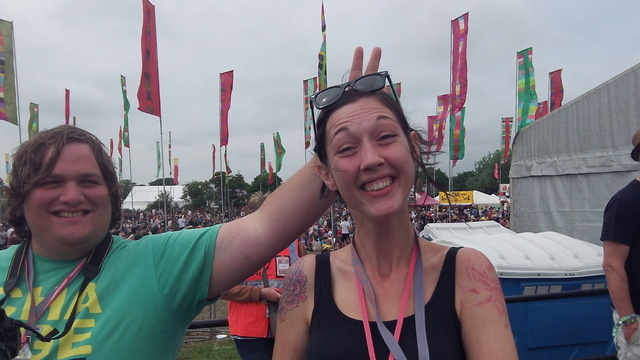 Gig Buddies enables people with learning disabilities to go to gigs by matching them up with volunteers who love the same kind of music. At its heart is the aim to prevent social isolation, develop informal support networks and friendships and build stronger communities – all through the power of gigs!
Gig Buddies started off as an idea pitched at City Camp Brighton in 2012 and ended up winning… along with £2000! It was fabulous to win City Camp and a fantastic start to our journey but it must be said that there's not a lot that you can do with £2000. What it did enable us to do was give us a place to start applying for matched funding, but funding is only just a part of what you need when you're setting up a project like Gig Buddies and so we were delighted when Zoe and Mark from GFN Brighton approached us about being one of the GFN causes.
The fantastic thing about the weekend was it enabled us to talk about Gig Buddies with people from a wide range of backgrounds with loads of different skills, but who weren't involved in our world of social care. This gave us a great new perspective and at the end of the weekend we had a range of materials and resources to enable us to promote Gig Buddies further. I'm also still in touch with people who were on team Gig Buddies and often revisit the materials and resources developed over the weekend as the project develops.
When I spoke at GFN Brighton we literally had £2000 in our back pocket but with a lot of hard work and support we've employed our Project Manager, Madeline and officially launched the scheme in March '13. We now have 20 'active' pairs of buddies regularly going to gigs and around 15 more waiting to be paired up. We've also established an advisory group (who re-named themselves The Storm and Thunder Team) to oversee the project and have been featured in various press (local,national and even Radio 4's Today programme). A big thanks too to Claudia Cahalane, who was part of team Gig Buddies at GFN for getting a piece about usin PositiveNews. We've also received further funding from Brighton and Hove City Council and East Sussex County Council to develop the scheme further and to top it all we went with two of our participants to Glastonbury Festival this summer! The past year has been quite a journey – and we're so grateful to all the good folk at GFN for being such a great part of it.
For obvious reasons I've changed the names of everyone in this case study but I think it's good example of the sort of thing we'd hoped to achieve through Gig Buddies:
Mark, a man with mild learning disability and autism, was the victim of homophobic hate crime when he lived in London.He moved to Brighton nine months as he'd heard it was a friendly place for gay people, but when he moved he didn't know anyone and faced total social isolation. Through Gig Buddies Mark now has a volunteer who shares his passion for 70s glam rock and who is also active in the local gay community. They now go out most weeks and are firm friends because they love the same things.
Thanks again to everyone at GFN – it's an amazing thing you're doing.
Paul Richards
Director
@heavy_load
@stayuplateuk