Year Here, well and truly Good For Nothing'd!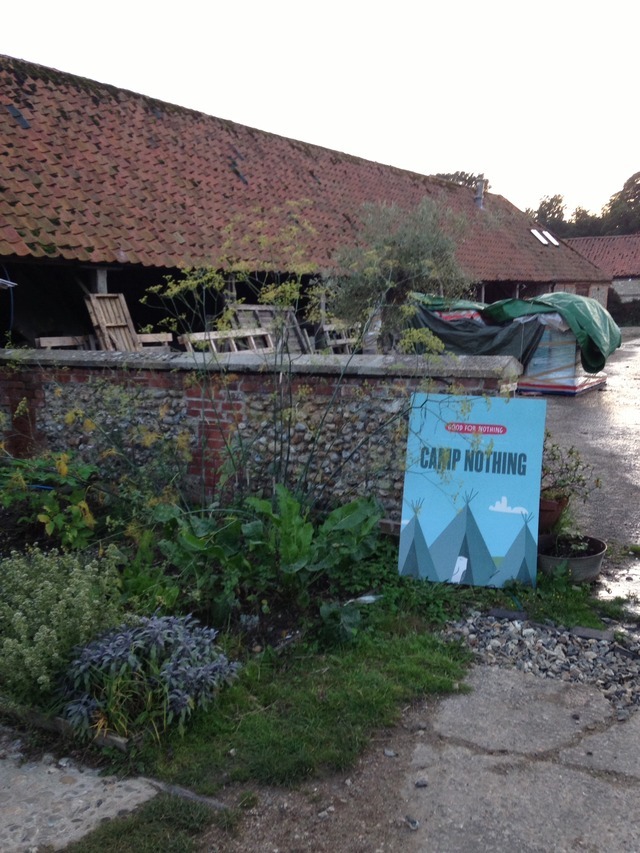 So, I was asked to write a blog post for Good For Nothing, a reflection of how it felt to be the recipients of the very first Camp Nothing.I'm struggling to put it into words – how do you capture a feeling, energy, the magic? I wish I could just bottle it up and send it to everyone! But alas, for now you're stuck with my words.
I'm Indie, and I am one of the 2013 Year Here Fellows, and I attended Camp Nothing with some of the Year Here gang, and had no idea of what to expect. All I knew was that we were attending Camp Nothing, which was dedicated to helping us.
Before Camp Nothing, I had very little idea of what GFN actually was. I've seen the little bird tweeting about on Twitter, but that was the extent of my knowledge. I am now a born again Good For Nothing'er, ever chanting Dan's "We are not a cult".
We rocked up at West Lexham, a beautiful country house, with an apple orchard, a lake, boats, tree houses (complete with fire places, beds, stained glass, bunting…), yurts, an outdoor kitchen, a pizza oven, neighbouring sheep, and a barn finished just in time for our arrival! You get the gist, this place was beautiful. And, it was just the beginning. A prime setting for GFN's utopian paradise – a bit like The Beach, except without Tilda Swinton, or shark-attacks.
We were the first group to arrive, so naturally took to the lake on a pair of rowing boats to ponder over what to expect of the weekend. Not suspicious, but not entirely sure of what we had signed up to, we decided, much like our boats, to go with the flow.
Then came Dolly – a beautiful 1950's bus full of GFN'ers from around the country, and even further afield. It turned out that everyone was as excited to be at Camp Nothing as we were. I was slowly becoming more aware of what was going on, and how GFN operated. So many different people from diverse backgrounds, all in one place to offer their time, expertise, and brainpower to us!
The Good For Nothing family were challenged with the task of answering the question of: "How do we bring the spirit of adventure into the Year Here experience?"
This immediately struck me as strange. How could a bunch of people, in a barn in Norfolk make Year Here better? I've recently graduated from the fellowship with 11 other amazing grads – I had the time of my life,the excitement ranged from some bloody hard work volunteering in a care home, working at the Cabinet Office, creating an art exhibition, and building my very own social enterprise (RootlessGarden – I couldn't resist a cheeky plug!) Making that more exciting, was going to be no easy feat.
Fast-forward: some incredible food, a few too many ciders, some dancing, and a campfire to day two. This is where the hard work started. But this is also where, Year Here had to step back, and let complete strangers spend the next 24hrs redesigning elements of the fellowship to make it more exciting. This was strange for me, being in a room full of people who didn't know much about Year Here, who were then to go on and redesign the programme,figure out a new communications strategy, and configure a funding stream.
Over the next 24 hours we were only there to answer questions, and muck in – but not influence any decisions. It was really hard to let go. But zooming out, and observing what was happening was incredible. People, some of who had only just met, collaborating to work to the brief. The atmosphere was buzzing.
I learned that the collective power of a bunch of dedicated individuals was way more powerful that any formal strategy, or smart city firm.Seeing people self organise and really utilize their own strengths, and make sure that it complemented others was inspiring. GFN brought all of these people together, and the speed and quality of the work was insane. So much got done in such little time. We had people speaking with students, designers working on branding,perfect copy churning out, strategies being worked – all aided with the GFN team providing us with some tea and cake!
What did I take from this? Seeing a whole organisation's strategy overhauled in less that 48 hours like nothing I've ever seen before. Not just that, but the content of the work was out was impeccable. It really helped me see the future for Year Here – and I think I can speak on behalf of the YearHere team, and our CEO Jack, that we could not have made this much progress in such a short amount of time on our own. It really proved to me that the ethos of GFN was not just talk, but actually works and makes things happen!
If there is a GFN chapter near you – join! If there isn't, start one. The power of people is incredible.