Technology and improving lives in Chester - Robots and Rides
Howdy GFNers!
Our third social at the Commonhall Social - come and have a beer, meet like-minded people, share the collaborative love. Check out Andy's beautiful Doodle and more juicy details below it: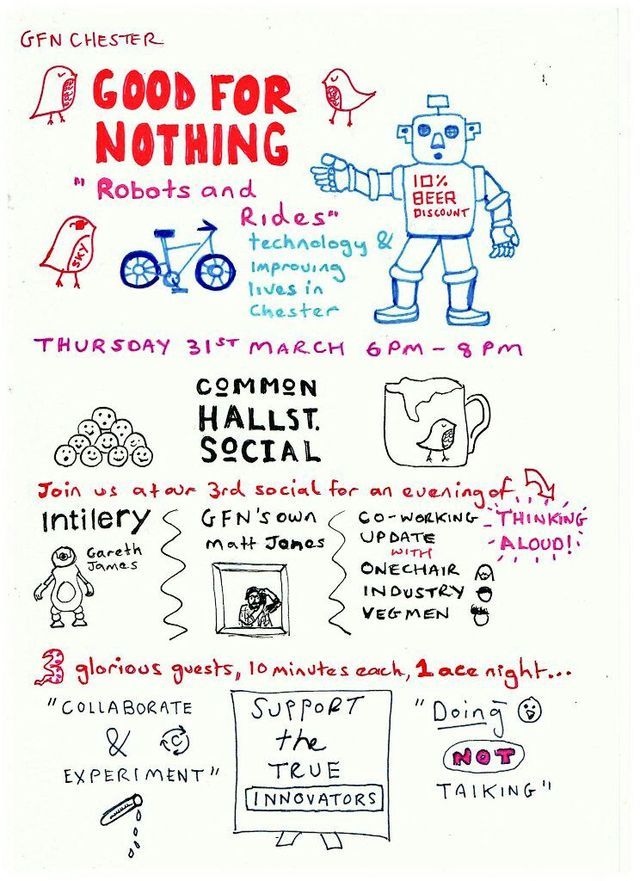 Two speakers will be sharing their thoughts by 'Thinking Aloud'. Entitled "Robots and Rides", the theme for this social focusses on technology and improving lives in Chester. Hear some inspirational musings from Gareth James of Intilery (Robots) and Matt Jones (Rides).
We'll also hear from the team behind the launch of the pilot co-working space on 61 Watergate Row South, run by #IndustryChester in collaboration with #OneChair. Andrew Davey, Sam Ryley and Tom Whitley will update us on how the venture is developing. They will also pick out some highlights from the GFN in a Hub Hack we held last week - the purpose of which was to answer the challenge of how to transform #makechester into a shared brand and tool for creating cultural change in Chester.
We KO at 6pm and finish around 8pm. The lovely Commonhall folk have bestowed upon us our usual 10% drinks discount and there will be some yummy nibbles this time too. Hurrah!
Please register so we can gauge numbers - click on 'Are you attending?' over that way >>>
See you there!
Holly and Uná